We understand the importance of working sustainably and making our business as environmentally friendly as possible.
In 2022 we became officially Carbon Neutral and were accredited with PAS2060 certification. We understand that there is a need to reduce our footprint and adapt our operation to make this sustainable. Communication with regards this is very important as it retains staff and helps us to be an attractive place to work. We do this by planning for the long term changes and communicate these changes to all our employees, customers and work providers.
We are an accredited PAS2060 Carbon Neutral site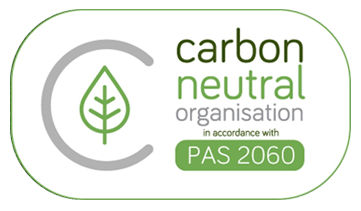 We have invested in five electric charging points, waste friendly facilities, LED lighting and cost effective controlled heating.
All our technicians have been trained to repair electric vehicles and this ongoing training keeps our technicians continually up to date with the latest technologies. We understand the need for our staff to remain safe at all times during an electric vehicle repair and have supplied electric and hybrid safety toolboxes around our site.
PAS 2060 is the internationally recognised specification for carbon neutrality and builds on the existing PAS 2050 environmental standard. It sets out requirements for quantification, reduction, and offsetting of greenhouse gas (GHG) emissions for organisations, products, and events.
We are fully equipped to carry out electric and hybrid vehicle repairs.
All of our technicians are trained to IMI Level 3 in Electric/Hybrid Vehicle System Repair and Replacement, and our support and central teams are trained to at least Level 2. This means our staff can safely and expertly carry out work on your electric vehicle at any of our repair centres.
Our accident repair centre meets the highest standards set by Tesla to repair your vehicle.
Our technicians have been trained and assessed by the team at Tesla and are qualified to provide the best service for your vehicle.
As an approved Tesla bodyshop, we will only fit genuine parts and paint, and will employ only the highest quality methods of repair to restore your vehicle to Tesla standards.
At Fylde Coast ARC we are continually investing in training and qualifications to continue our advancement in new electric vehicle technology and are ready to repair your electric vehicles.